Just some doujinshi... Only two. I wouldn't part with them if I had to, but alas.
Also, poster pinups! I don't actually know HOW to ship those... So you'll have to work with me if you're interested.
I'll estimate shipping based on location :3! It'll be through Canadapost.
Well, first off, the doujinshi. One is Tales of the Abyss (Jade x Peony), and one is Axis Powers Hetalia (US x UK)~
Prices do not include shipping.
Name:
As You Like (US*UK Fanbook #16)
Circle: Kaiten Mokugyo/Makimura Maki
Pairing: US * UK
Rating: R18 (I think it's on the mild side for its rating, though.
Pages: 24~
Price: $16 USD

So yeah, this one has is actually really adorable. ;-; Blushy US ~~~ !! It's one of Kaiten Mokugyo's more recent works. I think it's based on the strip where US runs for icecream, trips, and ends up breaking his leg.
Name:
(I honestly have no idea)

Circle: Ren Hodaka
Pairing: Peony * Jade
Rating: This is oneeee scene that sort of has an implicit R18, but it's really tame. And it's only one panel.
Pages: 28~
Price: $14
This one has really pretty art~ I think the story is that Jade can't get to sleep. Peony decides to 'help' him. Hm. Sleeping Jade at the end is really cute~ ;3;
Lastly, posters! They're pin ups. I used the rest (there were 8 before), but these ones are left...
They're a bit creased near the middle from rolling, but it's hardly noticable. Size is about 15" x 22".
$3 each!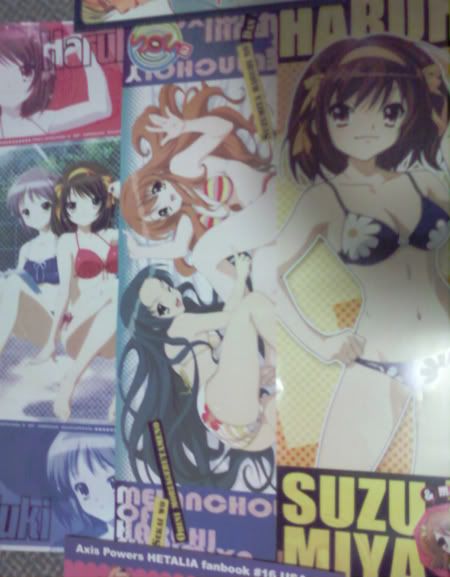 Post if you're interested, and I'll give a shipping estimate~ owo The books are nearly brand new, I've read them once or twice. They'll be packaged in a bubble-wrap envelope- should you want more padding, please let me know~ As for the posters, I'll figure out how to ship them if anyone actually wants.. >w<
Thanks for looking! Let me know if there are any questions.